Become a Societal Member
A SWE collegiate membership is a great way to prepare for a successful engineering career.  Click here to sign up online, or keep reading to find out about the perks.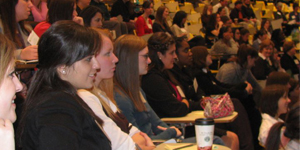 As a member, you are part of a community of peers with access to exceptional tools, scholarships,
training,and role models. And with all the recreational activities, it is a lot of fun, too!
Eligibility for scholarships. More than $500,000 is awarded each year.                                                       
SWE Career Center for internship and full-time employment search and career planning. 
Networking opportunities with practicing women engineers and other collegiates.
A support system of peer groups, mentors, advisors, and industry leaders.
An opportunity to develop your leadership and management skills.
Regularly scheduled meetings that allow you to get advice from fellow members on everything from time management to graduate schools, all while making lifelong friendships.
Discounted prices with Kaplan: 10% off any SAT, ACT, GRE, GMAT, LSAT, MCAT, DAT, OAT or PCAT preparation class, Live Online class, premium online product, tutoring or admissions consulting package.
SWE Annual and Regional Conferences.
Professional Development seminars.
Annual subscription to the award-winning SWE magazine!
Live professional development webinars that are also available as replays.
Annual subscription to the award-winning SWE Magazine
Membership Benefits
Community of Support
SWE is an inclusive organization focused on issues of interest to women specializing in engineering and technical careers.
A strong network of women engineers from academia, government and industry, corporate representatives, government officials, and other individuals supporting and advocating for the mission of SWE.
Awards and recognition programs honoring outstanding accomplishments of women in the engineering profession as well as those who have contributed significantly to the advancement of women in engineering and technology professions.
Education and Development
SWE's education and outreach activities are designed to enhance the quality of life for women of all backgrounds who pursue the profession of engineering.
Scholarship opportunities for all educational and professional levels, including undergraduate and graduate students, and women re-entering the workforce as engineers (at societal and section levels).
Reduced fees for admittance to societal and regional education conferences that offer networking, professional development, seminars, workshops, and leadership training.
Resources and Information
As a worldwide leader in engineering knowledge and support, SWE is a partner you can turn to for advanced, relevant information about women in technical careers.
SWE Magazine-the Society's award-winning magazine, covering issues of interest to women engineers including the achievements of women engineers, career development, career guidance, activities within the Society, and technical topics.
All Together,SWE's monthly newsletter.
SWE Online Communities.
Webinars and podcasts.
Online career center where you can manage your resume and search hundreds of jobs posted monthly by SWE's sponsors.
Outreach programs that encourage girls to pursue careers in engineering through SWE's alliances with Girls Inc., Girl Scouts, and US FIRST (Foundation for the Inspiration and Recognition of Science and Technology).
Leadership Skills
Members are encouraged and supported in the development of skills necessary to be effective leaders in a global marketplace.
Develop leadership experience in a non-threatening environment through leadership roles at the sectional, regional, and societal levels.
Publish articles in the SWE Magazine.
Present technical papers at societal and regional conferences.
Lead seminars and workshops at societal and regional conferences.
Specific to RPI
There are also perks here at RPI SWE that you can only receive if you are a societal member:
Attend events restricted to societal members, such as Celebrate SWE!
You may sign-up for societal membership online or contact Membership Director at kristk@rpi.edu for more information. Along with the corporate benefits, you will receive RPI benefits as well! Some events, such as Tee Off with SWE is only available to Societal SWE Members.
SWE also offers a GREAT value in the form of the Collegiate to Career (C2C) membership! For a one time $50 payment, collegiate members can secure a SWE membership for every year they are in school plus one year of professional membership! It is a great value for students with two or more years of schooling left. Otherwise dues are $20 each year to renew your membership. For more information, contact cantao@rpi.edu or visit the C2C frequently asked questions .
Information provided by Societal SWE
Becoming a Active RPI SWE Member 
To become an Active Member of the Society of Women Engineers at RPI, a member must attend at least two Professional GBMs and two other RPI SWE events (these can also be Professional GBMs) per semester.  There are certain events that require the member to be an Active and Societal member to participate (i.e. Tee Off with SWE!). Once acheiving Active Member status the member is able to attend Celebrate RPI SWE!, the end of the year celebration where the year will be recapped and awards will be given out to the amazing members who have participated and made a difference in our organization.